Digital Transformation is  implementing technology to improve processes through customized digital solutions. It is an ongoing process to transform and improve business performance by changing how a company thinks and operates. Unlike common perception, digital transformation isn't only about the technology you adopt but also involves people, processes, and portfolios. 
Digital Glyde's extensive services/products are based on current technology. We help clients personalize a solution that meets their exact business goals. Digital Glyde's experienced professional services team can provide custom solution development in custom software enhancements, strategic opportunity assessment, and optimization of technical design.
Digital Glyde's experience across varied sectors enables us to understand our customers' requirements to deliver exactly what our customers need. Our ability to recognize business requirements ensures success with the best possible balance of cost and quality.
DIGITAL TRANSFORMATION SERVICES
Digital Glyde – Custom Solution Development
Businesses must move towards digital transformation to stay up with technology and the industry's need. There is a significant difference between Google, Facebook, and other numerous customer apps, compared to the apps available to do your business. We understand this "technology gap" and build smart solutions utilizing the same technologies that drive these large corporations. At one time, all companies depended on a single software – it was usually difficult to get a hold of and only designed for one specific goal. As technology advanced industries needed progressive software that could perform multiple tasks, work seamlessly with existing systems, and stay current. Digital Glyde provides all of these customized needs to their industries.
Digital Glyde's Custom Solutions Development enables our clients to help build long-term and productive connections with their clients. A dedicated team of highly effective developers professionally manages the custom web/mobile application development from start to end. Digital Glyde utilizes the most appropriate and current use of technology to create critical, significant, reliable, and secure custom applications to fit your needs. You retain all the rights to the software we build for you.
Digital Glyde – Data Extraction
Data extraction is the process of cleaning, restructuring, and enhancing raw data into the desired format to improve the decision-making process. When combined with Artificial Intelligence and Machine Learning, as with Digital Glyde's Data Image Extract, it can help companies and employees improve productivity and effectively uncover similarities, correlations, anomalies, and patterns that would otherwise remain hidden.
Digital Glyde's patent-pending technology ensures that data quality is accurate and relevant, allowing the customer to make quick decisions and predict future trends.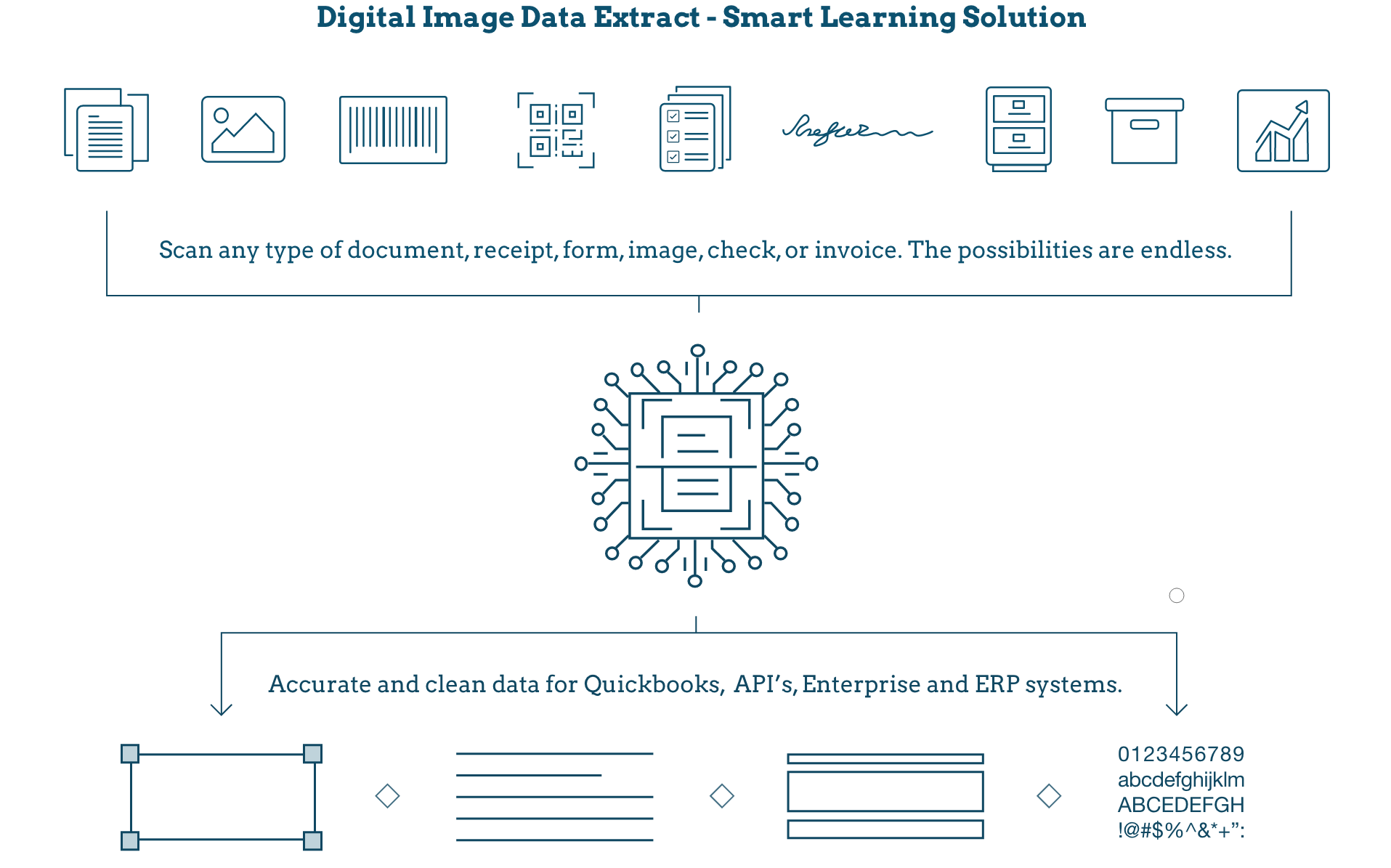 Digital Glyde – Legacy Modernization
Customer expectations and user needs evolve daily. Modernizing systems, software, and architecture are essential for any successful Digital Transformation. Companies often fail by trying to make these transitions all on their own.
Digital Glyde offers speed-to-market scalable software solutions for time-sensitive applications. We manage the people, data, processes, and system behaviors throughout every step of these mission-critical transformations. We help ease complex transitions, allowing clients to stay technically competitive, scalable, and cost-effective.
Common items that can impede Legacy Modernization:
Fear
Employees and end-users often fear change. Some may worry about how long it will take them to learn a new system. While others may fear it slowing down their workflow and/or increasing their workload.
Digital Glyde makes processes more straightforward, and systems "glide" smoother. During our Planning and Strategy process, we interview and communicate with everyone involved in a project. We help uncover current pain points, identify the project's goals, and suggest forward-thinking features & behaviors that make these processes better and more efficient.
Expectations
With multiple people involved in a modernization project, each person may know what needs to change. Digital Glyde helps you clearly define the goals and set expectations early on in the project. This helps control the budget, maintain your timeline, and eliminate any potential issues that may affect other departments or downstream work processes.
Migration
It is critical that all systems work and play together. Digital Glyde creates emulated work environments to address all possible assumptions and scenarios that may cause potential issues or problems before deployment.
Ownership
Digital Glyde develops custom solutions for you. You own the software! However, as always – we are only a phone call away.
Digital Glyde – Cloud Technology
As Data Strategy and Data Governance continue to gain momentum among global businesses, another parallel trend that has surfaced is the rapid shift to cloud infrastructures for business processing. While any industry/company can have its own server/database to handle such scenarios, data centers can be very costly to maintain with extended downtimes and unpredictable connectivity risks. The most cost-effective, efficient, and secure platforms are cloud-based data servers.
Cloud adoption is essential to achieving Data Strategy and Data Governance, enabling Big Data Analytics to scale as needed. It is a popular platform for larger businesses who want the benefits without having to make huge in-house investments. Cloud platforms also offer medium and small companies tailor-made solutions for custom computing at an affordable cost.
Cloud Adoption for Data Management strategy practices revolves around Metadata Management and Data Quality, which industries are using to provide their customers better service without compromising the quality of delivery.
Data will provide "insights" that businesses can use for a competitive advantage from time to time. However, if not appropriately handled, large sets of data, can lead to Data Management failures and data corruption.