Digital Glyde's Digital Vercx is a an all in one application, driven to improve Work Order Management processes and operations at a much better value. Vercx delivers real-time information speeding up key stages of business processes for operational efficiency. Key features include: work-order management, photo capture, workflow monitoring and invoice creation. Customers also love the added option of receiving real-time status updates.
DIGITAL VERCX – FEATURES & BENEFITS
With Digital Glyde's Digital Vercx, a service provider can create a new work order (or edit an existing work order) and assign it to a field technician. As the service process continues, real-time updates can "pushed" to the service provider and/or customer, thus minimizing errors and wasteful paperwork.
Taking your business to the next level with innovative solutions will assist in edging out the competition. Taking Work Order Management exchange mobile is one way to adapt to the ever-changing digitization of the modern service provider/customer relationship. Whether the concern is economical, operational, ecological, or customer experience centered, VercX provides the paperless way to use the electronic medium with instant connectivity and speed.
Using the camera on your mobile phone or tablet, you can instantly capture any VIN, barcode, serial number, or manufacturer code from any year vehicle. Digital Vercx technology also allows you the ability to find VIN numbers that are within barcodes, on printed material or legible hand-written.
With Digital Vercx's photo tool, you can record product condition and capture any images of parts or inventory.
Digital Vercx inventory management features include advanced barcoding from any mobile phone or tablet allowing you to access your equipment, assets, inventory and deliveries. Track every stage within your business from sale to delivery.
Digital Vercx Advanced Analytics combines content and data with sophisticated machine learning tools to discover insights, make predictions/projections, and generate future improvement opportunities to improve your existing business processes.
Digital Glyde's Digital Vercx App allows users to quickly create detailed service requests, document project information, and track materials/expenses – all while capturing important real-time information that can be shared with your service team and/or customers.
Work Order Management/Exchange
Runs on any mobile device or tablet
Boosts efficiency and productivity
Combines operations and accounting in one dashboard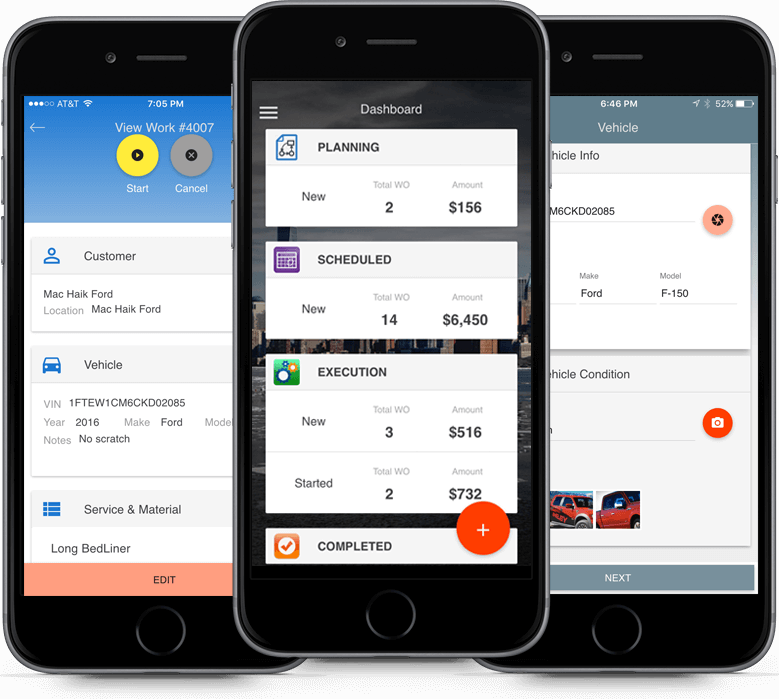 DOWNLOAD DIGITAL VERCX TODAY